We value our patients' experience at Bay Chiropractic & Rehabilitation. If you are currently a patient, we encourage you to write a review and send it to us via email and we'll gladly post it on our website. You can also leave reviews on Yelp, Google and Facebook.
Dr. Eric Nepomnaschy
Kelly W. 5/15/20
I injured my low back and was in excruciating pain for days! I called and quickly got an appointment with Dr. Eric. I was initially a bit nervous about chiropractic care, but he made me feel at ease and in good hands! Needless to say in less than a week after his initial evaluation and me following his stretching exercises, icing recommendation, getting adjustments and even some acupuncture in the office with the wonderful Emily, I am back to my normal running/peloton using self! Thank you! From Yelp
Sean W. 5/13/20
I started coming here after i had my accident and my attorneys recommended me to come here. I can say that I received amazing care from Dr. Trabold and Dr. Hoda they are so friendly and they always listen and care of their patients pain and concerns. Just want to say thank you guys for everything! From Yelp
Laura B. 4/3/20
I needed an emergency appointment for my neck, after waking up in unbearable pain and unable to move my head in any direction. I had never been to a Chiropractor in LA, I have a chiropractor in NY but recently moved. With a lot of pre existing neck/back issues I was very nervous going to someone new, but urgently needed an apt same day. Dr Eric was able to see me immediately - he was incredibly thorough and walked me through everything he was doing in great detail. I couldn't recommend him more - the appointment was not rushed at all he always spends as much time with you as you need. My neck is back to feeling 100%, so thankful for the entire team at Bay Chiropractic for looking after me - highly recommend!! From Yelp

Karey C. 2/27/20
Great, great session. I came in with a 3-day migraine stemming from some pain in my neck and after a couple quick adjustments and laser therapy I felt better than ever! The staff was super helpful and they took me in right away when I showed up for my appointment. The only downside is that they don't take insurance but I think a lot of the great chiropractors don't so its a bit of a trade off. Will definitely return if I have any other issues!. From Yelp

Michelle P. 1/27/20
I saw Dr. T and Emily for a few months. They were both wonderful. Emily does acupuncture and has a gentle touch. Dr. T was my chiropractor and he was also fantastic. The staff in the office are pleasant and follow up! Highly recommend this place. From Yelp

Penny S. 12/30/19
I have a chronic bad back. Every so often I experience more pain than typical. The result is that I cannot stand, sit of lay down. It causes me to be irritable and depressed. When this happened a few months ago I asked friends for their chiropractor recommendations as I was new to the west la area. Dr Eric was highly recommended and so I managed to transport myself to his office. He used traditional chiropractor maneuvers plus he had a laser treatment that enabled me to stand upright. Then to top it off he has an acupuncturist Emily. Emily is a wonder woman. She knows a great deal about acupuncture plus she does cupping.
When I left the office I felt almost normal. I continued the treatment for four consecutive days and felt assured that I was under control. I returned to my Pilates routine and now see dr Eric and Emily every other week for maintenance. I strongly recommend this practice. From Yelp

A.J.A 12/30/19
Everyone at Bay Chiropractic has treated me with the utmost respect and the best of care. They are also all super friendly. To top it all off, they get me in and out in a timely fashion, which means a lot to someone with a busy schedule. From Yelp

Karoline E. 11/6/19
I was still pretty delirious when I posted my first review, so not sure if it even went through, but I want to make sure I share how amazing these guys were. I woke up with horrible stabbing pain in my back and found these guys on yelp. I called in desperation for an immediate appointment and they made it happen for me. I went in, and when the consultation started, even just the slightest movement made me burst into tears from the pain. He quickly figured out what was going on (severely inflamed lower back joints) and gently gave me treatment. He was very sweet as I tried to respond to his questions though the snot and tears and he even got me into see their acupuncturist to help with the pain. I walked out a little straighter, in less pain and feeling very well taken care of. Everyone, from the front desk to the practitioners, was amazingly supportive, sweet and knowledgable. I HIGHLY recommend these guys and will be back tomorrow for more treatment. From Yelp.
Ross L. 9/5/19
Dr. Eric is really fantastic. I see him once a week to treat my wrists and arms. The results have enriched my life, with pain no longer associated with my work. My work involves long hours at a desk, playing piano, and LOTS of mouse clicking. Over the years, the damage had been done what I thought was carpool tunnel. Prior to seeing Dr. Eric, western medicine encouraged surgery and medicine. There needed to be another way! With chiropractic, soft tissue, and acupuncture, my pain has gone from a 8-10, to no pain and I implement stretching and other techniques taught by Dr. Eric to keep my body healthy. Dr. Eric has great humor too! Fun times at the office. From Yelp.

Marcia D. 8/10/19
What can i say but wonderful things about the staff and facilities of Bay Chiropractic & Rehabilitation, so gentle and patient. After the accident I had with my sister they took the time to listen first and they didn't make us feel like we were just another patient. Highly recommend for adjustments and therapy. From Yelp.

Elley Y. 7./18/19
Amazzinnngggggg cannot explain how helpful Dr T was in giving basic info and stretching me out. I threw my back out suddenly and he was able to help me instantly, plus give tips for preventive care. FromYelp

Stacie L. 5/16/19
Had severe neck and hip pain and tightness. I was getting dizzy when I looked down and felt sick. I'm new to SM and have not seen a Chiro for 6 months. I called multiple places and found prices from $150-350 for a visit. The First doctor I tried to set an appointment with could not see me for 4 weeks. Thankfully she recommended me t Dr Eric. He fit me in next day and He was amazing and very Informative. My range increased dramatically but more importantly all of the pain and dizziness were gone in a gentile way. I can't say enough good things about my treatment and results. Prices are reasonable, well worth the visit. He will be my regular doctor moving forward! from Yelp
Fiona K. - 8/26/18
I hobbled into Dr Eric's office almost 6 weeks ago now. I had seen my primary care physician for some numbness in my leg a few days earlier and had been told it was likely a little sciatica caused by over-stretching in yoga and would go away on its own. Two days later I woke up with no feeling or function in my lower left leg. It was a pretty terrifying situation and a friend recommended I go see Dr Eric. I've never seen a chiropractor before but I called at 8am, spoke with Angie on the front desk who immediately got me in to see Dr Eric at 9am. As soon as Dr Eric saw me he referred me for an MRI and helped get me scheduled as a priority. I had severe foot drop and no sensory or motor function in my leg from the knee down. The MRI came back to show a herniated disc completely impinging the sciatic nerve. I met with a neurosurgeon who thought surgery might be the only way forward but he wanted to wait 6 weeks before making that decision. Avoiding surgery was our goal! Dr Eric and Dr Monica treated me 5-6 times a week for those first few weeks, working to decompress the spine to get the disc off the nerve. They used laser treatment on both my lower back and my leg and electric stimulation to get the nerves working again. I was an interesting case because I had no pain and the neurosurgeon thought my issues could either come from the nerve in my back or from the nerve at the side of the knee. Dr Eric did a lot of extra research on my situation and really went out of his way to ensure I was getting the best treatment and rehab. Every tiny bit of progress was a huge deal, not just for me but for Dr Eric and Dr Monica and the whole team at Bay Chiropractic (Dr T, Ben, Angie and Elizabeth). From being able to move one toe again, to being able to move all of my toes a couple of weeks later, every small win was celebrated. Finally after 5 weeks of treatment I can flex my ankle and my foot drop is almost gone. It's not quite a catwalk strut yet, but it's definitely not a zombie drag anymore! I go back to see my neurosurgeon in a few days and I'm confident he'll say no surgery required. I also think he'll be stunned at the difference 6 weeks of rehab has made. I can't recommend the team here highly enough - they're highly knowledgable and they truly care. I feel so lucky to have had them in my corner throughout this ordeal and will be forever grateful. - From Yelp

---
Rebecca S- 7/18/18

I feel very fortunate to have been referred here. I am learning through this experience that a healthy spine leads to a healthy body and mind.

If you are experiencing any pain at all and not sure where to start, I would highly recommend seeing Dr. Eric. This entire office is a pleasant experience. I was in an accident experiencing extreme dizziness, headaches, and neck pain. After seeing Dr. Eric 3 time a week over the course of a month and half, I feel so much better. He really listens to you and helps you understand what your body needs to recover. I was never a fan of getting adjusted in the past, but completely trust Dr. Eric's expertise and skill.

He is very passionate about healing and wellness and it comes through in his work. Other Dr's were prescribing medicine but Dr's Eric's technique is more impactful and a longer term solution. My visits have also dramatically reduced my anxiety which is not something I was expecting. I will continue going just for this alone. - From Yelp
---
Heather S. - 8/17/18

Thank you very much for all of the healing! I really appreciate how much help I have received at this facility! Dr. Eric, Dr. Monica and Dr. T are all great! I am so lucky to have found this office.
Parking tips: There is a small lot underneath the building. However there is plenty of meter parking on both sides of Lincoln in front of the office. - From Yelp

---
Keegan C. - 8/30/18

I have always been rather skeptical towards chiropractors after a bad experience with one when I was younger. Since my back pain was only getting worse I decided to see Eric Nepomnaschy at this location.
Honestly one of the best decisions I've made, after two weeks of sessions, my back has stopped hurting me on a daily basis. My entire body has started to feel better after the work that was done to correct my back and spine. I see him once a week now to maintain positive alignment. Super friendly staff and very flexible scheduling. Highly recommend Eric and his staff if your looking for a great Chiropractor in Santa Monica. - From Yelp
---
Stephanie G- 5/11/18
Dr. Eric is a lifesaver!! After injuring my back 2 months prior, I found myself experiencing numbness in my toes, constant tingling down my entire leg and pain in my back. As a competitive dancer, the immobility caused by this was heartbreaking for me. I was also honestly terrified because I had never felt anything like this before. A trusted friend immediately advised me to see Dr. Eric and I couldn't be more happy with my results in just a few short weeks! I haven't felt any numbness in weeks now, my leg hardly tingles at ALL and my back is even feeling almost normal again. I am also gaining back more flexibility in my hamstring! (something I've been struggling with since I tore it a few years ago).

Dr. Eric always knows the exact situation my body is in, can always pinpoint and explain why I am hurting/limited/uncomfortable in certain areas, is informative, emotionally reassuring (I become anxious easily) and is extremely confident on how to go about the proper healing steps needed to get comfortable in my body again and dancing...safely. The exercises he taught me to do every single day at home have also helped me dramatically - I do them and any pain is immediately relieved. I knew from the very beginning that I was in the right hands (literally-haha).

Elizabeth and Ben are the BEST as far as customer service goes! They always welcome me in, ask about my day, are very accommodating to my requests, answer any questions and genuinely seem happy to do all of this.

Thank you Bay Chiropractic & Rehabilitation!
Thank you Dr. Eric!!
See you Monday :)

- From Yelp

---
Belma M. - 11/13/16
I came to Bay Area complaining of severe neck pain, very limited neck range of motion and numbness on my left fingers. The best review i can share is to tell everyone that i have been healed. Neck pain is gone, I have now normal neck movement and the numbness is gone. How AMAZING is that! I highly recommend Dr. Eric and Dr. Curtis. Office staff Elizabeth and Sherry are so nice and accomodating. They will work with you with scheduling. No waiting. flexible scheduling, easy parking ABOVE all IT TRULY WORKS! - from Yelp
---
Sarah G. 9/9/16
I absolutely love this place. I go to see Ramona who is my acupuncturist and ever since I've been seeing her it has completely change energy flows throughout my body. It's so important to integrate acupuncture into your life no matter what you're going through and out of all Western doctors I highly recommend Ramona she is by far a great healer. from Yelp
---
Ian A. - 3/14/2016
As a fitness professional, I can't afford to be down for the count. My work can be very physically demanding and what I enjoy most about Dr. Eric's adjustments are the strategies and techniques he shares with you to help keep you out of pain between adjustments. He is unbelievably knowledgeable and extremely professional. It is the perfect blend of prevention and treatment to help you stay active and pain free. From Yelp
---
Lisa B. - 1/27/2016
I went here for the first time after a recommendation from a tennis friend. I was in a lot of pain after getting a too intense ART treatment. The front staff was super friendly and I got right into my scheduled appointment time. Each of the doctors introduced themselves while I was there. My SI joint was locked up and had a rib giving me problems. They were able to understand what was going on as well as make an adjustment that instantly relieved my pain.
In addition, he is focusing on what treatment plan will be best to get me back to my active lifestyle. From Yelp
---
Monika M. - 11/25/2015
Let me start by saying that I'm a true skeptic. Before I do business with any establishment, I have most likely spent time doing my due diligence and then some.
This was my first ever visit to a Chiropractor. I was really concerned that perhaps I should be seeing my doctor first and I worried that maybe this visit would only make my condition worse. Who would I blame? Only myself, for taking the chance.
I stand absolutely corrected. I met with Dr. Eric who took the time to evaluate my condition and walked me through the anticipated treatment process. I had my first appointment on a Friday, where I arrived in excruciating lower back pain. I was unable to sit, lay or walk without help. By my second session, the next day - I was practically 75% pain free. My injury was related to a disc bulge, and although I still have a ways to go before I can get back to normal activities, I wouldn't have been able to recover so fast without the help of Dr. Eric. He even helped show me some recovery exercises that I could do on my own time to help the process! This Doctor is patient, articulate and honest. Trust the skeptic, this is one business I would always recommend to family and friends. -from Yelp
---
Alan E. - June 2015
Dr Eric is superb. I've suffered from years of back pain, and at the point it became intolerable, I began my visits. He provided short term relief, but also helped me build long term strength. I have eliminated all day to day concerns. I would recommend unequivocally to anyone.
Sarah Piampiano - Professional Triathlete, October 2013
"Since I began racing triathlons I have always had an issue with nausea. I had tried everything from changing my nutrition to motion sickness remedies, to seeing ENT and other specialist. Finally someone suggested that I see a chiropractor. Dr. Eric has been AMAZING! He is really gentle in his approach (versus some other chiropractors who are pretty aggressive and some treatments can be painful), and he has been completely dedicated to working with me to solve my problems. Well, very shortly after I started working with Eric we were able to pinpoint where the problem was occurring and begin fixing it. I now am able to race and train nausea free. I trust Dr. Eric and I feel strongly he has been a big part of my success this year"
You can visit her website at: www.sarahpiampiano.com
Dr. Neel S, M.D., September 2013
I researched Dr. Eric's practice online and was pleased with the reviews I found from others on Yelp.
My own experience was similar: with prompt communication from his front office and a convenient email reminder system for appointments.
The staff was flexible and courteous as well.
Dr. Eric was excellent, espousing a holistic philosophy and teaching me key exercises, going beyond just the "adjustment" approaches of others I had worked with. He was very personable, engaging and thorough.
As a physician myself, I can attest to the excellent bedside manner and professional approach he provided.
I highly recommend Dr. Eric to anyone needing chiropractic care.
Georgia-Grace H. - May 2013
Yelping for a chiropractor? Look no further than Bay Chiropractic. Not only is Dr. Eric extremely skilled in his craft, he is an all around great person. I was referred (thank GOD) to Bay Chiropractic after I was involved in a high speed collision a few months ago. Within the first two sessions, Dr.Eric was able to significantly decrease my pain. Through our continued sessions, he has been able to realign my body into better shape than I was even before my accident. His office staff is extremely warm and friendly and it's actually a treat to get to go for a visit. Scheduling is beyond easy (and with my schedule that is, to say the least, impressive) and I feel refreshed, aligned and ready to take on the world each time I leave his office! (from YELP)
Michael R. - Santa Monica, CA January 2013
I've had jaw issues as long as I can remember and would get severe headaches from this. I have been seeing Dr. Eric for under a month and no longer suffer from even half of the daily jaw pain I am accustomed to. And I have had only one very mild headache since beginning my treatment! (from Facebook)
Ana C. -Santa Monica, CA June 2012
Dr. Eric is a life saver. When my back went out 2weeks ago, I went to the ER with no avail. I quickly remembered how Dr. Eric had helped me so much 4years earlier when I hurt my neck. What I appreciate so much about him other then healing me :) is that he brings compassion to his practice while taking the time to really listen to what my symptoms were and preceded with caution. I felt heard and not rushed. In a matter of 2 sessions, I had found great relief and I was up and back to work! Thank you! (from yelp)
Kent A. -Santa Monica, CA. June 2012
Dr. Eric has been a huge help. I began seeing him three weeks ago. I was refereed to him from a friend. I had been dealing with lower back pain that was sufficient enough to affect sleep. Thus far, the feeling of discomfort has been almost completely alleviated. At the pace I am healing, I fully expect to be free from any discomfort within the next couple weeks. That is a huge deal considering I could barely pick up my 2 year old daughter when I first went in to see him. I had been otherwise healthy and active, but with the recent swelling/ tension in my lower back, (really not sure what I did to cause it) I had become incapable of participating in the activities I enjoy. Through Eric's adjustments, stretching, and EStem, I have improved dramatically. I am very thankful to have been referred to Dr. Eric. I feel comfortable recommending him to anyone. (from yelp)
Amy C. (former No. 1 collegiate tennis player)
"Dr. Eric is professional, intelligent, engaging, empathic and genuinely concerned about helping his patients get better. I found Dr. Eric three weeks ago when my back went out so severely I could not tie my shoes or close my car door. Thankfully, Dr. Eric's adjustments and various exercises, combined with ultrasound and EStem, helped my back recover completely in just three weeks.

Currently, I teach tennis 20 hours a week, and I am a mother of an active toddler. Dr. Eric's expertise helped me get back on the courts in just one week! I am excited to say I have been pain free rallying again.

As a former Stanford tennis player, I have had a great deal of experience with injuries and rehabilitation. I can not recommend Dr. Eric highly enough." from Yelp 6/18/12
Monica L.
Dr. Eric has been a true miracle worker for me. Throughout my pregnancy, he has taken such phenomenal care of me! I began seeing him during my second trimester because of the stress my spine was taking with the redistribution of weight and he was able to adjust me just fine. I always look forward to going to see him because his table allows for me to lay face down with a section that lowers for my prego belly. I'm currently 39 weeks pregnant and saw him this week! Every time I leave, my baby gets so happy, he starts moving around-I'm sure he can feel that my body is in a much more optimal position. Dr. Eric is very aware of how pregnancy can affect alignment and works with the challenges of the belly to make me feel wonderful! I would recommend him to anyone. Beyond being a total professional, he's genuinely concerned about his patient's well-being and a great man. If you're looking for a chiropractor on the westside, be sure to book an appoitnment with Bay Chiropractic! Thanks Dr. Eric-you'll have my business for a very long time! - 6/7/11 from Yelp
Jessica Hardy - US Olympic Gold Medalist
As a world record holding swimmer for the US National team, it was important for me to find a top-notch chiropractor who can help me with my recovery and injury prevention. Dr. Eric Nepomnaschy has been helping me with adjustments, as well as lower back and shoulder tightness. His treatment has made a world of difference to my training regime, and I would definitely give him the highest recommendation!
4/8/2011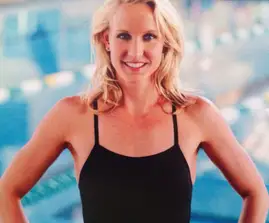 ---
Tony G-
...whether I come in for a periodic adjustment or a months- long series
of treatments for my neck issues, it is never very long before I experience great
relief. You always know where the problem is and how to solve it. And thanks
so much for the maintenance tips---the things I can do at home to further my
therapy between visits. You have always been so dedicated to helping others,
it's no wonder you're tops in your field. Thanks for everything.! Tony G.